EVENT ORGANIZATION
The modular museum space allows you to organize and support events such as:
- Presentations; Commemorative and social days; Emotional events; Training and business meetings.
The structure is equipped with multimedia equipment to be able to support leisure and business activities.
Furthermore, in support of activities such as Team Building, we offer a tool that can be, without any installation and simply by logging in with each participant's smartphone or tablet device, to support the collection and distribution of information during the activity.
Maximum flexibility in building and customizing the support activity for your business.
For information, please send an email to
info@tazionuvolari.it
.

As part of the celebrations for our beloved fellow citizen Tazio Nuvolari, 130 years after his birth, the Tazio Nuvolari Museum and GlobalMedia are promoting and creating NIVOLA'S YEAR around the world. An interactive emotional communication is envisaged, through digital tools for maximum visibility and flexibility on every occasion.
With innovative technologies, making the use of personalized routes emotional, for example you can discover a race: the track, the poster, the anecdotes, photo / video gallery, car card with 3D model (Augmented Reality) listening to the roar of the engine .... All this, through a simple internet connection, will be available without any installation to participants who will have a smartphone / tablet.
The contents do not only concern the races, but also other aspects of Tazio Nuvolari's life, such as the ingenuity in building and adopting sports techniques and methods that are still used today, or his STYLE, that is, his style in presenting himself or dressing up. , to create the uniform and your own logo.
For the occasion, tools have been designed to support demonstrations, events, gatherings and initiatives, such as: interactive communication; exhibition; emotional event; gadgets; coming soon Nivola's Year 3D VR Virtual Reality.
It is proposed in the places where the pilot has participated, reaching "impossible" goals and successes. Places in the world where he was called the "Master" and remembered by the greats of the past.
We take the opportunity of this anniversary to raise awareness of the historical memory of this great man, both nationally and internationally.
DIGITAL PYRAMID
Supply of geo-localized temporal QR-Codes for unlimited access, WITHOUT ANY INSTALLATION (smartphone / tablet compatible for ios / android ...), at exhibitions, totems, rallies, locations ... to support NIVOLA'S YEAR activities. TAG to view dedicated multimedia content:
- Video / Gallery / 3D Augmented Reality; - Personalized «branded» selfie; - Leave comments / messages in the Virtual Book Memory;
- Download material.
DIGITAL KEY
Multimedia, 16Gb USB stick "NIVOLA'S YEAR": - Presentation of NIVOLA'S YEAR - MTN MN;
- PLAY gallery digital selfie souvenir;
- Standard version or certified numbered collection, with special / sponsor contents.
KIT-NIVOLA'S YEAR

MDIGITAL PYRAMID + DIGITAL KEY STANDARD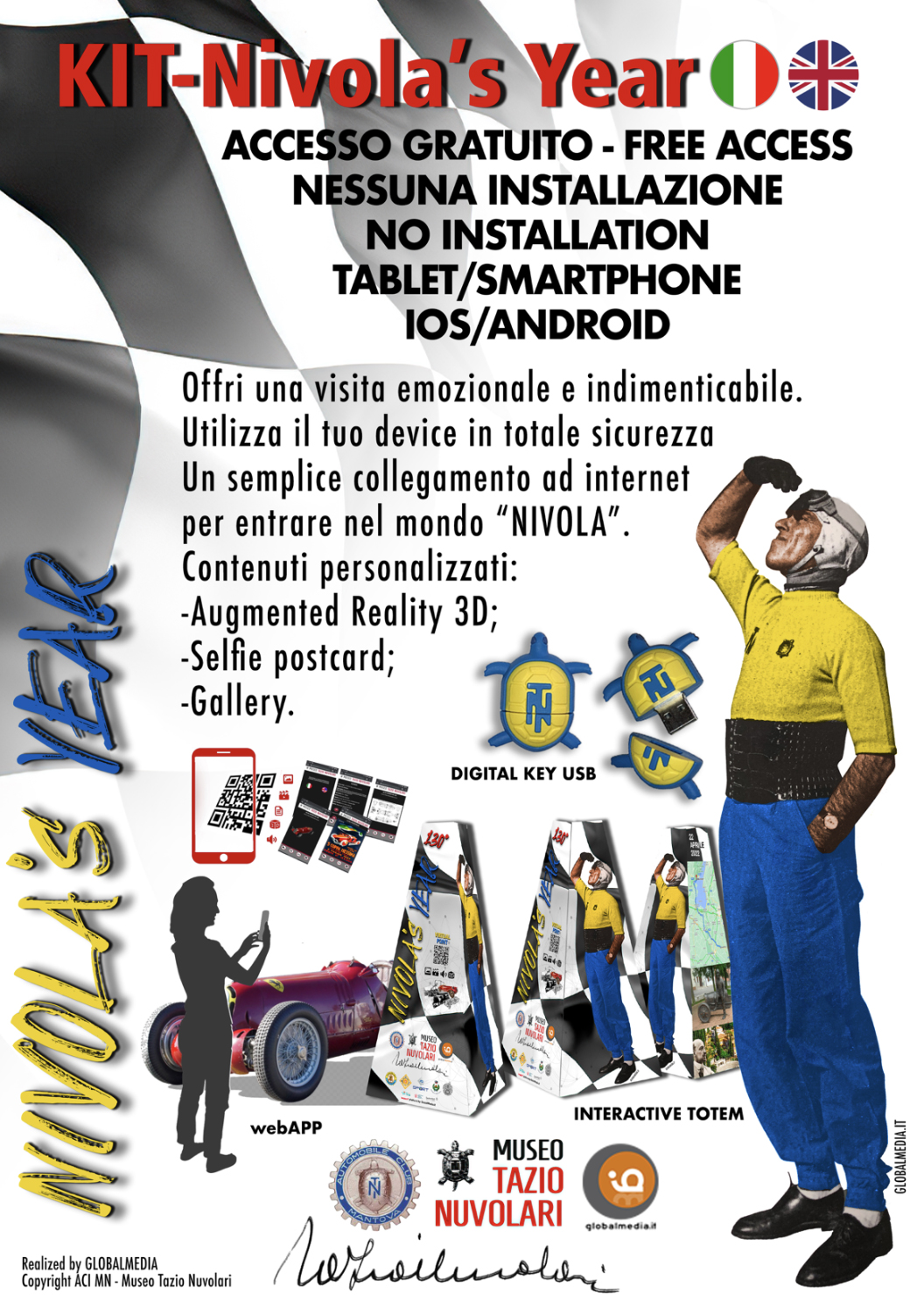 INTERACTIVE PHOTOGRAPHIC EXHIBITION "NIVOLA'S YEAR"
Interactive photographic exhibition, to retrace the exploits of the champion and not just cars and motorcycles, even for enthusiasts ... to be discovered!
- Modular exhibition (Not only Cars and Motorcycles, Tazio in the World ...): - Small pictures 30x30cm. with multimedia photographic prints, more than 300 pcs available; - Flexibility in the exhibition and interactive paths through the painting, with a simple internet connection, to deepen the exhibition.
"SURVIVOR" MULTISENSORY EVENT
Interactive emotional event to remember our champion: - Sensory scenographies;
- Multi-projection or Ledwall; - Live Soprano / Tenor Singers; - Video story in memory of the event.