INFO
Address
Phone: 0376/894391
Ex Carmelino Church
via Giulio Romano (on the corner with via N. Sauro)
46100 Mantua - ITALIA
Contact details
Phone: 0376/894391
from Monday to Friday open by reservation only
from Saturday to Sunday from 10:00 to 18:00
it will be possible to access the museum only with a SURGICAL MASK
E-mail:
info@tazionuvolari.it
To stay up to date on our future initiatives and activities follow us on the Facebook page
https://www.facebook.com/museotazionuvolari/
Opening hours
from monday to thursday: open by reservation only
from friday to sunday: 10.00 a.m. - 18.00 p.m.
GREEN PASS required to access the museum
Tickets
Full price: 8,00 euro
Reduced (ACI members, Touring Club Italia members, children aged 12 to 18, over 65 years): 5,00 euro
Family: 20,00 euro
Group: 5,00 euro a persona (minimum 10 people)
Free: disabled people, Mantua Museums Card, Supercard Cultura, Lombardy Milan Museums Subscription
Books, videos, prints and various items are available in the Bookshop.
Credits
The Tazio Nuvolari Museum is accredited by Regione Lombardia and partecipates in the Sistema dei Musei e dei Beni culturali della Provincia di Mantova.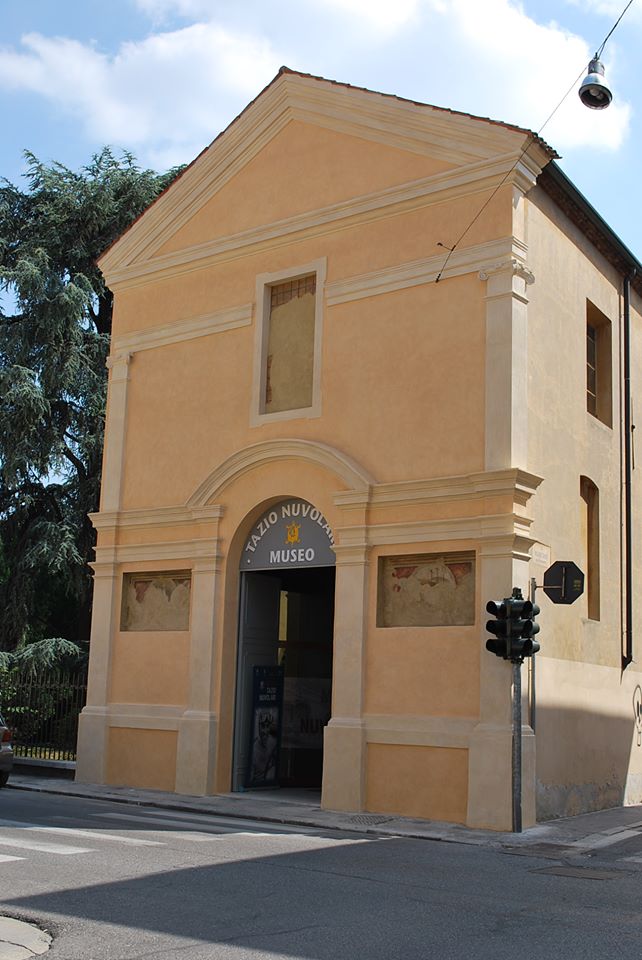 To see...
The "Tazio Nuvolari" Museum is dedicated to honour the memory of the unforgettable champion whom Ferdinand Porsche identified as "the greatest driver of the past, present and future".
From 1920 to 1950, Nuvolari (Castel d'Ario 1892 - Mantova 1953) competed in around 350 motorcycle and car races, winning 161 of them (91 outright, 70 class wins). In his racing life, he also won two European Championships, five Italian Championships and five International Speed records.
The Museum is located within the beautiful structure of the fifteenth century Church of Carmelino, situated along the «Percorso del Principe», the walkway where the two most important monuments of the city, the Palazzo Ducale and the Palazzo Te, are found.
The Museum displays the trophies, plaques and cups which the "Flying Mantuan" won during his long racing career, as well as a rich collection of gold medals attesting his sporting achievements and his legendary life.
Very noticeable is some of Nuvolari's well known sportswear: helmets, gloves, goggles, overalls and his legendary yellow tee shirt. Also to be found are several historic documents, as bills, certificates, personal letters and honours received. Amongst them the telegram sent to Nuvolari by Gabriele D'Annunzio after his victory in 1932 Targa Florio, and the reproduction of the golden turtle that the poet gave him with the dedication: "to the fastest man, the slowest animal".
Finally one will find a selection of historical films and an exhibition of vintage scale models which will bring us back to the times when Nuvolari raced.